UP TO THIRD GRADE CHILDREN ARE LEARNING TO READ.  AFTER THIRD GRADE THEY ARE READING TO LEARN.
Real Men Read is an early childhood literacy program designed to help kindergarten students learn to read.  MENtors are assigned to a kindergarten classroom for the school year.  They go to the classroom one time a month for five months and read to the students.  They work on vocabulary, fluency, and the kids get to know a MENtor in our community who values literacy and education.  Every kindergarten child receives a copy of the books to take home and read with their family.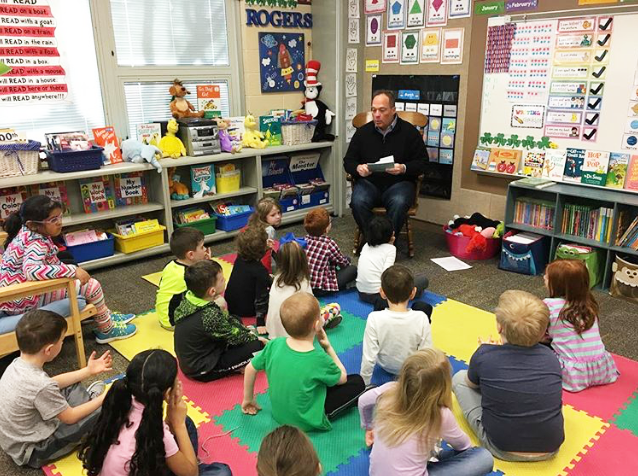 "Reading to the kindergartners is always a highlight of my week. The kids are so excited to have a visitor in their classroom. The smiles, hugs and high fives are a real spark for the rest of the day." – Don Weiler
The best part of Real Men Read is the connection with the classrooms and the impact it has on their perception of reading. It goes beyond a donation or board position to active participation. The children see that even grown men think it's cool to read and are encouraging them to read more outside of school.
Rogers Elementary is our third school with Real Men Read. In previous years, we have read at Grandview and Lakeview. The rotation between schools has allowed us to see the great things that each school has to offer their students – and the challenges that they face every day. The work of the teachers, aides and school staff with the students is nothing short of heroic.
Real Men Read is a program coordinated by the Foundation of Monroe County Community Schools. To learn more visit them online here.